Product Description
A BOB Die
One die board, one classic quilt block! Combine 4 blocks to create 12″ finished Hunter Star block. Designed to create one complete 12″ block in two passes. Cut four layers of one fabric color, then reload and cut four layers of second fabric color.
Who's BOB? BOB stands for Block on Board. BOB die designs enable you to create an entire block with just one die. That's right, every shape that you need for the block is in one place!
BOB die designs are designed to make cutting even easier for quilters. You'll make quilts with SPEED since you can cut an entire block in just one pass.
BOB die designs are a great VALUE because you don't have to buy multiple dies to cut out a block.
And at the end of the day, BOB die designs let you quilt with EASE.
Browse all the BOB die designs and plan your next project! With 15 different BOB die designs to pick from, your next project will be a breeze…
Compatible with these fabric cutters: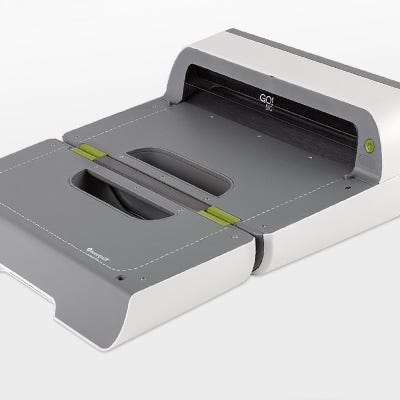 Use GO! dies with your GO! and GO! Baby Fabric Cutters to cut precise, accurate shapes in just seconds.
Features and Benefits:
Cut so much more in less time—Cut up to 6 layers of 100% cotton fabric at once
Easiest to use—Simply place die on cutter, then fabric and cutting mat on top
Get accurate cuts every time—No slipping rulers or mistakes
Create quilts you never thought you would—AccuQuilt makes cutting curvy classic quilt patterns a snap
Save fabric with Two Tone Foam—Get more out of your fabric by placing it only over the shape you want to cut
Safe to use—No blades come anywhere near your fingers
No more math—Geometric shapes are designed with an accurate 1/4″ seam allowance in the design
Quilt more, clip less—No more clipping all those dog-eared corners
Quick and easy applique—Apply fusible web to fabric prior to cutting
Storage: Organize GO! dies with AccuQuilt GO! Die Storage Rack (55115).
Care & Maintenance: Use adhesive roller to clean lint and thread from dies. After each use, with the die pick provided with the cutter, remove any threads imbedded between blades and foam. It's normal for threads to get caught where blades meet in a die. Remove with tweezers or die pick. Die blades never need to be sharpened.
Die Tips:
With some fabrics, after cutting, a thread or two will remain where die blades meet. Snip threads with scissors.
Use cutting mats that matches size of each die.
For best results, cut with die blades running under roller at an angle. Do not cut with blades parallel to roller.
Blades on some dies are positioned at an angle. Align fabric to edge of shape, not edge of die board.
Some dies feature specially designed corners to aid in alignment and pre-cutting.
For fast applique, apply fusible web to fabrics, then cut shapes with dies.
Use good quality fabric to reduce fabric stretch.
It's always a good idea to test cut one shape before cutting many shapes to ensure fabric orientation is correct.
| | |
| --- | --- |
| Designer | AccuQuilt |
| Compatible Fabric Cutter | GO! Baby Fabric Cutter (55600), GO Fabric Cutter (55100S), GO Big Electric Fabric Cutter (55500), Studio Fabric Cutter (50800) |
| Cutting Mat/Plastic Required | GO! Cutting Mat, 6 in. x 12 in. (15.2 cm x 30.4 cm) Item 55112 |
| Cut Size | 6 3/16″W x 3 5/8″H (15.7 cm x 9.2 cm) triangle; 5 1/2″W x 1 3/4″H (13.9 cm x 4.4 cm) trapezoid; Two diamonds-2 7/16″ sides (6.2 cm) |
| Finished Size | 6″W x 3″H (15.2 cm x 7.6 cm) triangle; 5″W x 1 1/4″H (12.7 cm x 3.2 cm) trapezoid; Two diamonds-1 3/4″ sides (4.4 cm) |
| Die Board Size | 6 in. x 12 in. (15.2 cm x 30.4 cm) |
| Item | 55166 |
| Weight in lbs. | 0.75 |
| Brand | AccuQuilt |
| Warranty | Limited One Year |